The BXO Toolbox is a software package with useful applications for system integrators.
These are released "as is", without warranty or support.
What's in the Toolbox?
This is a package of applications that can be of help for system integrators. The Programmable Parser Tester can be used to simulate a log printer output, such as a fire alarm or nuse call system. The Nurse call system simulator simulates different nurse call systems from a number of vendors. The package also contains a SIO protocol tester for simulating text messaging to a KIRK/COBS DECT system.
ESPA 4.4.4 Master / Slave tester
SOS Access V4 Test Server and Client
Spectralink/KIRK/COBS IP-DECT Tester
Modbus TCP test utility
Nursecall System Simulator (CareTech System 4000/5000, Faci, Tjeders etc)
Sound Converter for Spectralink WiFi phones
UDP Terminal (send/receive data over UDP)
Bosch NurseCall 2 AlarmManagement protocol tester
Pager emulator (currently simulates Salcom and EMS pagers)
Terminal Emulator (alternative to Hyperterminal, with TCP client & server)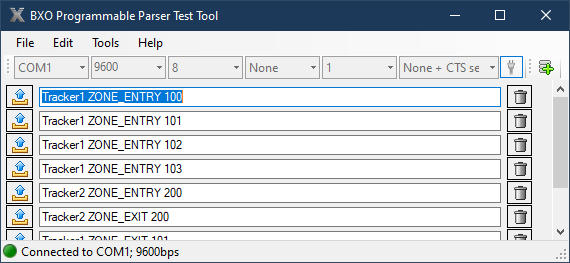 Manual for the Programmable Parser Tester [pdf, 50k]
Manual for the KIRK/COBS CCFP Emulator [pdf, 119k]
Manual for the Nurse Call System Simulator [pdf, 66k]
Voltage Divider Calculator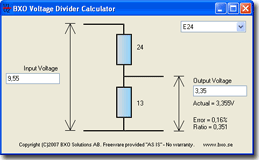 This program is a tool that calculates resistor values for voltage dividers. It will automatically pick resistors from a certain series (E6, E12, E24 or E48).
Enter the input voltage and the desired output voltage. The program will suggest the best matching resistors from the selected series, as well as display the actual output voltage and the deviation from the desired voltage (error).
Download & Install
Install BXO Voltage Divider Calculator V1.0
Third party software that we find useful
Com0com is an interesting open source software that can be used to create pairs of virtual COM ports that are linked.
With Free Serial Port Monitor you can log the information being sent and received and then save the log file. This is great for trouble shooting serial protocols.